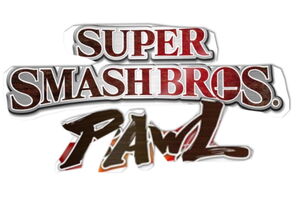 Super Smash Bros Pawl is a Lawl game by SullyfrogMsrady. It is on hiatus, and is going to be replaced by Pawl Infinte, an upcoming game having NOTHANG to do with Lawl that will be on the SullyfrogMsrady Wiki.
Characters
Starters
Unlockables
Galleom                                                                                                                                                            Magatron (MAD)                                                                                                                                                       Dark Lazer                                                                                                                                                                              The Destrucktinater
Dave the Zombie/Bart the Enderman
Round 2 Characters
These characters are unlocked when you beat Classic Mode with Sully on "Very Hard" mode, along with the Champions of Subspace Bonus Story.
Starters
Unlockables
Unlockable Character Skins
Sully- Pajama Sully
Terry Crews- Red Pants
Witch Doctor- Quaza Powered Doc
Herobrine- Temple Herobrine
Lord GresH- Gresh
Onua and Kopaka- Original Onua and Kopaka
Mario- Fire Mario
Luigi- Mr. L
Bowser- Dry Bowser
Red Bird- Scope Bird
E-123 Omega- E-102 Gamma
Galleom- Subspace Galleom
Duon- Subspace Duon
Skipper- "Zombie" Skipper                                                                                                                               Dark Lazer- Dark Vader or Darth Vader                                                                                                                        The Destrucktinater- Transformation
Optimus Prime- Optimus Prime Suspect Optimus                                                                                             Magatreon- Transforming Grill or Cartoon Form
Sonic- Classic Sonic
Dave/Bart- Zombie and Enderman
Trollface Dude- FUUUUUUUU Face Dude
Tails- Classic Tails
Assist Trophies
Yoshi (StacheBros)
Sonic (Wreck-It Ralph)
Round 2
Stages
TBA
Crossover
SullyfrogMsrady and Kenneth1chase have comfirmed Pawl to cross over with Smash bros lawl EX in a new game: Smash Bros. Pawl vs Smash Bros. Lawl EX.
Images
Story Mode: Champions of Subspace
Main Article: Champions of Subspace
Chapters
The City
The Halberd
The Ruins
Bowser's Realm
New York
Subspace
The Great Maze
Ad blocker interference detected!
Wikia is a free-to-use site that makes money from advertising. We have a modified experience for viewers using ad blockers

Wikia is not accessible if you've made further modifications. Remove the custom ad blocker rule(s) and the page will load as expected.