A lawl spinoff run by The Masked Pope and named by John.mitchell.9210256/Sandvich33 in 2014.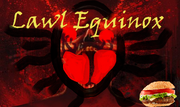 Mature Content Warning
This article contains mature content not suited for everyone, please proceed with caution.
Lawl Equinox admins
List of Characters
Playable Characters
Italic: Unlockable
Round 1 (36 Slots)
Aladdin (Twisted: The Untold Story of a Royal Vizier Version)
Round 2 (36 Slots)
Round 3 (36 Slots)
Final Round (16 Slots)
Joke Characters Round
DLC Round
Non-Playable Characters
Assist Trophies
Round 1
Round 2
Tomoo (Joke Assist Trophy)
Round 3
Heavy (Heavy's Pizza Song)
Announcers
Sandbag
Classic Mode
Gallery
Intro
W.I.P.
Suggested Characters
Italic = The Masked Pope has not Interest
Bold = less Interest
Watson's Dildo (No, I have no INTERESTS in his dildo, Sanvich! Why the Fuck are you asking me this!?)
Oscar the Boomer
Raptor Jesus
The Fonz
Zubat the Magnificent
Cooking Mama
The Orange Overload
Marichu
Stocking Liddell
Honeydew
Others are coming soon
Subspace Emissary
Chapters
Bold: Shown in the Cut Screns but Not in the Battle
The Battle Stadium
Stories
TBA
Playable Character
Non-Playable Character
Cpend7 (when you choose Sanic)
Sanic (when you choose Cpend7)
Enemies
Bosses
Enemies
Minibosses
Bosses
Stages
Starter
Unlockable
Subspace Emissary
Not useable Stages
Trivia
Ad blocker interference detected!
Wikia is a free-to-use site that makes money from advertising. We have a modified experience for viewers using ad blockers

Wikia is not accessible if you've made further modifications. Remove the custom ad blocker rule(s) and the page will load as expected.